Helen Phillips is a gundog trainer based in Evesham, Worcestershire.
She is well known as the author of the popular book 'Clicker Gundog', the first gundog specific training guide using clicker techniques.
Helen has three dogs of her own, all Hungarian Vizslas, which are not only valued members of her beating and picking up team, but also loved family members.
Highly Qualified Trainer
Helen is a highly trained instructor, with a variety of qualifications in both teaching and canine behaviour.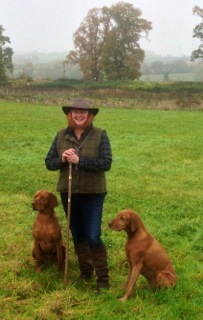 She holds a Distinction in Canine Training & Behaviour from Warwick College, and went on to teach this course for six years.
She is a qualified teacher, and has Distinction in Learning About Dogs CAP levels one, two and three.
Dog Training Centre
Helen welcomes all gundog breeds at her dog training centre, and has a variety of classes to suit different needs.
She is happy to help you complete your gundog grades, or resolve problems with your dog and will teach you the principles of clicker training, and how these can be applied to gundog work.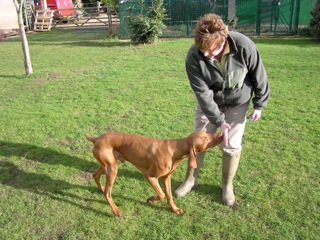 One to one tuition is also available, along with a teaching focused 'shoot' on site.
Helen has taught her popular clicker training methods in countries around the world and working with her is a great opportunity for gundog owners in the Evesham area.
Making Contact
Helen loves hearing from new Gundog Club students, and helping them to realise their potential.