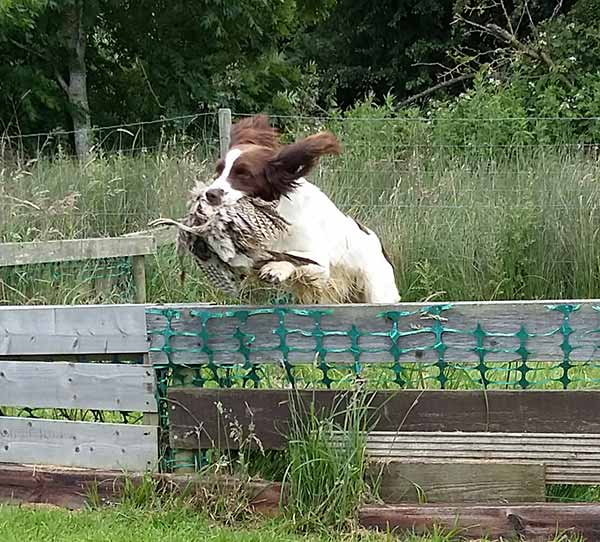 About Susie and Steve, and their dogs
Susie has 3 spaniels, a Springer and 2 cockers which are all working dogs in one form or another, either working on shoots, agility, mantrailing or canicross. Susie and Steve between them have 7 spaniels in total so they are very familiar with the breed and their various traits.
Steve has many, many years of experience training dogs and instructing people. Susie has worked as a dog trainer with Steve since 2019, and works her youngest cocker Broc in the shooting field both beating and picking up.
Training approach
Both Susie and Steve are positive reinforcement reward based trainers, and actively steer people away from using any aversive methods with their dogs.
Susie takes great pleasure in watching bonds grow between owner and dog and loves nothing more than seeing the joy when a new skill is mastered.
Although Steve was himself introduced to gundog work via more traditional methods, he now prefers Force Free training, he believes it is a more effective and pleasurable way for both handler and dog to learn.
Gundog experience
Steve has many years of experience working both spaniels and retrievers on shoots, both beating and picking up.
Susie has 4 1/2 year old working cocker spaniel Broc, who works in the field, and she has also worked through the Gundog Club's grades with with 3 other spaniels.
Susie is a Foundation Instructor for the Gundog Club, able to assess grades 1 – 3, Steve is a Full instructor, able to assess grades 1 – 5.
Particular breed knowledge
Susie and Steve are spaniel specialists, but also train retrievers, and welcome in their classes all gundog breeds, and non gundog breeds.
Services offered
Susie and Steve offer both 121s and Group classes, they we welcome both pet dogs and working dogs.
They welcome all breeds and cross breeds, including those that are not Gundog breeds, as they feel that giving a dog a job to do and the opportunity for a dog to work its brain as well as its body is essential for a dog's well being.
Qualifications and other achievements
Both Susie and Steve are accredited trainers with the IMDT and ADTB.
They both believe that experience in training people is as important as experience in training dogs, and Susie holds a city and guilds trainer qualification. Steve is a qualified teacher and assessor with the City and Guilds occupational awards scheme and he also has extensive instructing experience with the army and fire service.
Susie and Steve are committed to keeping their skills up to date, by attending various courses and studying.

Get in touch with Susie and Steve using the contact for below.