Lindsay Hermann is our Gundog Club Instructor for Sheffield, South Yorkshire and trains people and their dogs for the Gundog Club foundation grades (grades 1 – 3).
She has been a professional dog trainer since 2013 and her students describe her as approachable, patient and understanding. She concentrates on the dogs, and the people training them, having fun. And helps owners to build solid relationships with their dogs to achieve great results.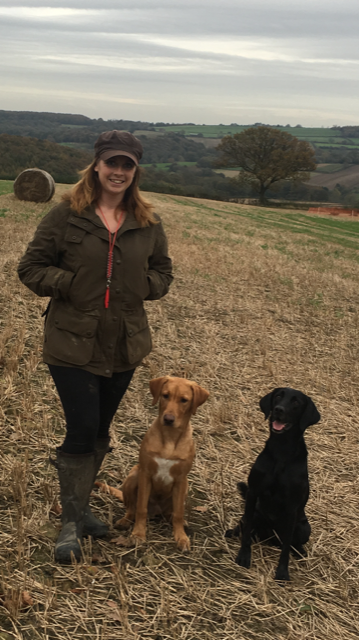 Lindsay is on the Gundog Club list of approved force free trainers here.
Lindsay and her dogs
Lindsay works her Springer x Labrador on local farm shoots and rough shoots, mainly as a picking up dog, but near the end of the season she also goes beating to let her express her Spaniel side. Her second dog is a new young Labrador who she plans to work during the season and also compete with once he's old enough.
She has also helped out at the Chatsworth Working Tests for two years gaining experience of the competitive side to the Gundog world.
Lindsay's classes and grounds
Lindsay's services and classes are ideal for people who have a pet Gundog and want to train as a way to improve their relationship with their dogs, and of course have a better trained pet, or if want to work your dog and take him or her shooting.
She offers one-to-one and group training classes, and welcomes all gundog breeds and cross breeds.
Her training facilities are on a private field and includes grass, basic cover crop, woodland, hedges and some shallow water, together with the use of starting pistols and dummy launchers when appropriate for the dogs.
Contact Lindsay
Lindsay looks forward to hearing from new students in the Sheffield and surrounding areas, and helping them to understand their dog through developing gundog skills and to achieve a fantastic fun bond between owner and dog.