Jo Laurens is Jersey's only APDT registered dog trainer and Gundog Club Instructor
Jo runs training classes, but is happy to travel anywhere on the island to carry out one to one training sessions at her clients' homes if they prefer.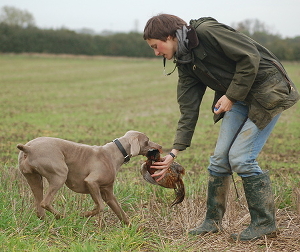 Her passion is for force-free gundog work, and she enjoys introducing her gundog clients to shoots, when they are ready.
Jo welcomes Gundog Club students in all categories and will be very happy to help you work towards your Gundog Grades or to solve any training problems you have with your dog.
Qualifications and Experience
Jo has been an APDT member since 2007, and holds an Advanced Diploma in Canine Behaviour Management (AdDipCBM) and Distinction in CAP1 & CAP2 clicker training qualifications.
To further her credentials, she is also currently working towards accreditation as a CBATI for working with dog-dog aggression.
Jo has been running classes, and working with handlers and dogs from a variety of breeds and with different levels of experience, for many years. She also has a wealth of experience in working her own HPRs in the field
Jo particularly enjoys rough shooting and has competed successfully in working tests and field trials.
She is also very supportive of non-competitive forms of assessment – such as the KC Working Gundog Certificate, Natural Aptitude Tests and Spring Pointing tests (for HPRs), and, of course, the Gundog Club Graded assessments. Jo also has experience in agility, obedience and working trials.
Positive Dog Training
Jo is committed to force-free training methods, with a strong emphasis on not using verbal or physical intimidation or punishment.
She believes that understanding what motivates your dog, and then having control over that thing, is the key to successful dog training.
Contact Jo
Jo looks forward to hearing from you with your gundog training enquiries: